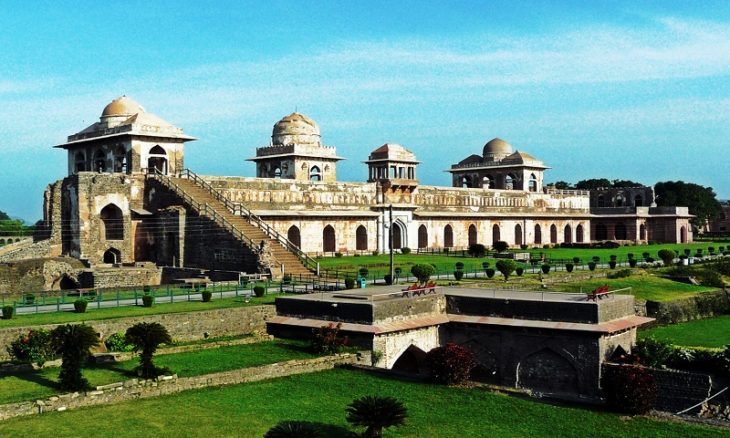 Madhya Pradesh, the central state of India is considered the heart of the country for a reason. Its varying topography, grand and royal forts, enthralling wildlife, several caves, myriad temples and rock structures are everything that makes it 'Hindustan Ka Dil' (Heart of India).
If you haven't paid a visit to this beautiful state, here are the best tourist circuits in Madhya Pradesh you must cover for a better understanding of the culture and tradition of India.
Best time to visit
Before talking about the areas to cover in your trip, we would like to tell you about the best time to visit Madhya Pradesh. During the months of the winter season, that is, from October to March, the weather remains pleasant for travel with an average temperature ranging between 5°C and 27°C.
Best Tourist Circuits in Madhya Pradesh
1. Route: Gwalior-Shivpuri-Orchha-Khajuraho
If you want to explore the best areas of Madhya Pradesh tourism, you must go to this amazing tour. It is for all the history buffs reading this blog – you will love unveiling the layers of its history while exploring the forts and monuments.
Special attractions:
Gwalior: Gwalior Fort, Tansen Tomb, Madhav National Park, Tiger Dam, Jai Vilas Palace, Mansingh Palace, Sun Temple, Sas Bahu Temples, Gopachal Parvat and Scindia Museum.
Khajuraho:  Panna National Park, Archeological Museum, Beni Sagar Dam, Ajaigarh Fort, and temples of Kandariya Devi Jagadamba, Mahadev, Visvanath, Parsvanath, Duladeo,Vamana, Bijamandala and Chitragupta.
Shivpuri: Chhatri, Bhadaiya Kund, Madhav Vilas Palace and Panihar.
Orchha:  Raja Ram Temple, Orchha Fort, Orchha Wildlife Sanctuary, Jahangir Mahal,  Raja Mahal, Chaturbhuj Temple and Dinman Hardaul's Palace and Palki Mahal.
Tour duration: 3 nights 4 days
How to reach:
By air: Nearest domestic airport is at Gwalior – Rajmata Vijaya Raje Scindia Air Terminal
By rail: The nearest rail head is Gwalior Junction
2. Route: Sanchi-Bhopal-Bhojpur-Bhimbekta-Pachmarhi
On seeing the Madhya Pradesh tourism map, you will notice that this route of tourist destinations in the state covers all the different colors existing here. No matter what is the purpose of your travel to MP – family tours, solo trip or honeymoon, you will go back al mesmerized. There are caves, historical moments, temples, lakes and waterfalls to explore in this tourist circuit of the central state.
Special Attractions:
Sanchi:  Monasteries, Toranas, Sanchi Stupa, Ashoka Pillars, Gupta Temple, Buddhist Vihara and Sanchi Museum
Bhopal:  Lower Lake, State Museum, Upper Lake, Birla Museum, Van Vihar National Park and Gohar Mahal.
Bhojpur: Bhojeshwar Temple, unfinished Jain temple having a 6-meter-tall statue of Bhagwan Shantinath along with statues of Bhagwan Suparshvanath and Bhagwan Parshvanath on either side, ruins of Bhoja's Royal Palace and Parvati Caves
Bhimbetka: Rock-cut Bhimbetka caves
Pachmarhi: Dhupgarh, Chauragarh, Apsara Vihar, Sangam, Panar pani, Jatashankar & Mahadeo Caves.
Tour duration: 5 nights 6 days
How to reach:
By air: The closest international Airport to the region is Raja Bhoj International Airport of Bhopal, situated at a distance of 56 kilometers from Sanchi.
By rail: You can book train reservations to Sanchi Railway Junction from any part of the country.
3. Route: Indore-Ujjain-Maheshwar-Omkareshwar-Mandu
Going through the map of Madhya Pradesh, you will find these places forming a religious region in the state. The most sacred temples of the state are situated in these areas along with some popular religious centers.
Special Attractions:
Indore:  Central Museum, Lal Bagh Palace, Patalpani Waterfall, Tincha Waterfall, Indore White Church and Ralamandal Wildlife Sanctuary,
Mandu:  Hindola Mahal, Jahaaz Mahal, Nilkanth's Palace, Rewa Kund, Rupmati's Pavilion, Hoshang Shah's Tomb, Bagh Caves and Rupayan Museum
Ujjain:  Ram Ghat, Kal Bhairav Temple, Shri Mahakaleshwar Temple, Vikram Kirti Mandir Museum, Jantar Mantar and Kalideh Palace.
Omkareshwar: Mamleshwar Temple, Shri  Omkareshwar Jyotirlinga & Temple, Siddhant Temple, Kajal Rani Cave and idols of 24 Avatars
Maheshwar:  Rajwada, Holkar Fort, Jaleshwar Temple, Ahilyeshwar Temple and Narmada Ghat,
Tour Duration: 4 nights 5 days
How to reach:
By air: the closest international Airport is at Indore – Devi Ahilyabai Holkar Airport
By rail: The nearest railway junction is in Indore.
4. Route: Jabalpur-Bhedaghat-Mandla-Kanha-Bhandavgarh
It is yet another popular tourist circuit in the state of Madhya Pradesh no less than delight for avid travelers and nature lovers. You can have the best time exploring wildlife in India at the Bhandavgarh National Park and the Kanha National Park. Some other attractive location in this route includes the Dhuandhar Waterfalls and white marble caves of Bhedaghat.
Special Attractions:
Jabalpur: Bargi Dam, Madan Mahal Fort, Dumna Nature Reserve, Rani Durgavati Memorial & Museum, and Pisan Hari Jain Temple
Bhedaghat: White marble rocks, Dhuandhar Waterfall, and Chausath Yogini Temple
Mandla: Mandla Fort, Shah Burj, and Jay Stambha
Kanha: Kanha National Park & Tiger Reserve
Bandhavgarh: Bandhavgarh National Park, Shesh Shaiya, Bari Gufa, Three Cave Point, Rajbahera, Climber's Point, and Chenchpur Waterfall
Tour Duration: 6 nights 7 days
How to reach:
By air: The nearest airport is in Jabalpur – Dumna Domestic Airport
By rail: Nearest railway station in Jabalpur Junction.
When planning a trip by air to Madhya Pradesh, you can find cheap flights at Indian Eagle. Make sure to fly to the airport nearest to your destination.
Srilu Uppari is an avid traveler who loves to explore new places. Traveling to offbeat, exciting destinations, meeting new people, and learning about new cultures has been one of her main passions in life.