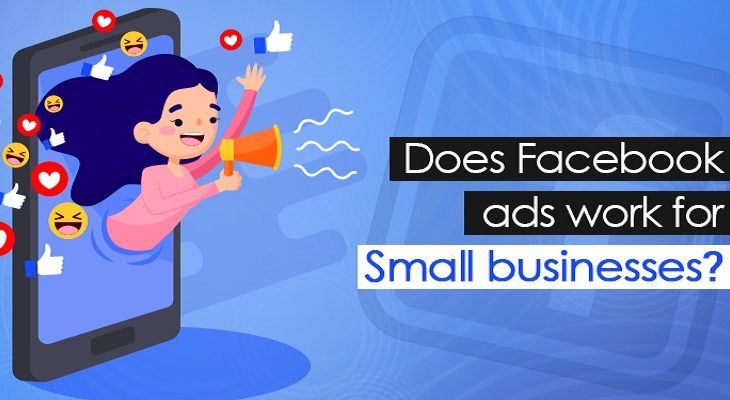 When it comes to Facebook and doing business, there are a number of things is that already known to us: Almost every business today has its customers on Facebook and that accounts for some pretty mind-numbing statistics? In summary, more and more businesses are looking towards Facebook marketing for improving their digital footprint.
Facebook is actively used by over 2.2 billion users every day and has, by far, the biggest reach among all social media networks. With the help of their social media marketing, small businesses can now create highly targeted audiences who may otherwise be difficult to reach through print or TV advertising.

Considering the spend is as little as $1 a day, this strategy can be both effective and super affordable small business. However, on the flip side, 62% of small businesses fail when it comes to working with Facebook Ads. That does not mean that your business has to be one of that 62%.
Some Situations when Facebook Ads Works Wonders
The ad targeting mechanism of Facebook enables businesses to drill down their outlook to any audience. The huge audience available on this platform means that almost every consumer market imaginable finds a place here. It is simply too big to ignore, yet that is precisely what many of the small businesses have been found to be doing.
If you are ignoring the opportunity that is available through paid ads on Facebook, it is highly probable that it is due to a bad experience in the past. It is common for many advertisers to have been there, especially the ones who are just starting out! While the basics of Facebook marketing are very simple, this simplicity does not always hold good with many.
The ease and simplicity with which the entry-level ad products on Facebook have been created has effectively led to a problem – just about any motivated small business owner can now hop on to Facebook and figure out the process of boosting a post.
However, using this standard feature is unlikely to result in sufficient sales, giving many the impressions that they have burned a few extra dollars in return for peanuts. This has further prompted many to shy away from using this SMM for small business especially when they have limited advertising budget to burn.
Yet, the flaw remains not in the platform but in the whole process of how things get done.
Moments when the Facebook Strategy is Likely to Fail
Facebook has designed its social media marketing services to be successful and it wants them to work so that businesses like yours spend more money on them. As already mentioned, it is not the ads that are the problem but the process. Here are some moments when things may not work out.
You Have a Target Audience that Does Not Spend Enough Time on Facebook:
The more time you spend in getting to know your audience, the better you will be in terms of meeting them where they spend their time and this may not always be Facebook. Older adults may not have anything to do with Facebook or the Internet for that matter. Targeting other B2B marketers sick of the constant advertising on Facebook may also prove a difficult option.
You Don't Have a Clear Understanding of Your Audience:
Your audience may be right in front of your eyes on Facebook and you will still find it difficult to reach them unless you know who they really are. Facebook Ads are only as strong as the targeting and reaching the right people could require you to be aware of the audience demographics. While it may be helpful to do a minor test budget on Facebook Ads, simply having a better idea of your business is what will help you the most and you don't need to spend anything to get this.
You Are Not Providing the Right Hook:
A consumer will find it very difficult to take action if he does not have anything enticing to make him move. Your business could be offering the greatest service or product there is in the market but for a consumer who has never heard of you, this will matter little.
In order to rope in new customers, you need to do a little more with your social media marketing for small business. Offers, freebies, and some sort of deal could prove the ultimate bait. Whether you don't have one or are unwilling to create one, it is a waste to try and get traction from Facebook Ads without having a compelling offer in place.
It is not necessary to have a giant advertising budget to get working with Facebook. All you need to do is understand the ins and outs of creating audiences and testing advertising campaigns and you can get better accuracy with your strategy with lower costs per action. Facebook usually makes a lot of money out of amateur advertisers. So, learn to do Facebook marketing right and you will get to use your advertising budget in the most efficient manner possible.
Manika Saha is a Digital Marketing Manager at Kreative Web Tech and Digital Marketing Consultant at Tech Panda, comes from Kolkata, India.