A refrigerator is the busiest and essential home appliance in the summer. There are many things that you need to consider before buying a refrigerator like, considering energy star, single door or double door. Considering the brand name is also one of them.
There is 100+ brand that makes refrigerator but unfortunately, only a few that worth spending your hard earned money. Today we'll list the top 10 refrigerator brand in the world.
1) Samsung
Personally, Whenever I think to buy any electrical appliances, Samsung is the first name come in mind. Samsung is trusted by millions of people for its quality products.
Best Samsung refrigerator
Samsung 275 L 3 Star Frost Free Double Door Refrigerator

Features:
Digital Inverter Compressor
Energy efficient, less noise & more durable
Auto defrost to stop ice-build up
275 L Capacity
flexible storage (88 L more Fridge Space)
2) Whirlpool
Whirlpool Corporation is an American home appliance company. This world's largest home appliance company own some of the other popular brands like KitchenAid, Maytag, and Hotpoint. Whirlpool refrigerator are mostly known for their quality and durable home appliance.
Best Whirlpool refrigerator
Whirlpool 215 L Direct Cool Single Door Refrigerator
Features:
215 Litre Capacity
Single Door Refrigerator
Direct Cool Technology
Number 1 in Ice-Making
12 Hours of Milk Preservation Even During Power Cuts
4 Star Energy Rating means to save more electricity
3) LG
LG makes a reliable choice for buyers. It's refrigerator save up to 40% energy as they can adjust the cooling according to the amount of food stored inside.
Best LG Refrigerator
LG 190 Litre Single Door Refrigerator (GL-B201APAW)

Features:
3-star energy rating
Digital smart Inverter Compressor
Direct cooling and manual defrosting
Connect with home inverter
No Stabilizer Required
4) Panasonic
The Panasonic provides few quality models of double door refrigerator which are however comparable to the other popular brands like LG, Samsung, and Wolf. The Panasonic refrigerator is really good in the term of reliability, technology, and food spacing.
Best Panasonic refrigerator
Panasonic 270 L Inverter Frost-Free Double-Door Refrigerator

Features
270 liters capacity
3 Star Energy Rating
Frost-Free and Double-Door
35L vegetable box
    Inverter and Econavi Technology
5) Haier
The Haier, a Chinese brand that sells refrigerator, washing machines, microwave ovens, and other home appliances. The Haier refrigerator is affordable to the down that you can buy them at a cheap price without compromising with the durability and functionality.
Best Haier Refrigerator
Haier 170 L Direct-Cool Refrigerator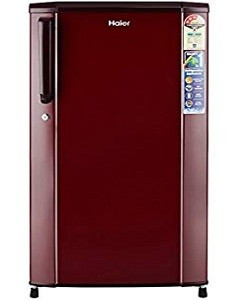 Features
3-star energy rating
Direct cool technology
170 L single door
Manual defrosting required
    Suitable for a small family
6) Maytag
Acquired by the Whirlpool Corporation, Maytag is a home appliance company which offer dishwasher, washing machines, refrigerators, and cooktops. It brand reliability based on the model configuration.
Best Maytag Refrigerators
The Maytag Amana Side By Side Fridge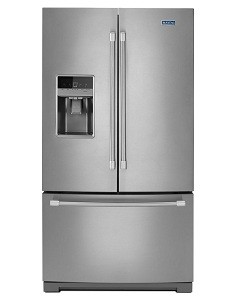 Adjustable Door Bins
The external ice and water dispenser
Enough storage space
Flip-up storage shelves
7) KitchenAid
KitchenAid another brand owned by the Whirlpool Corporation. Its refrigerators are designed with a fabulous design and functionality. From French door refrigerators to 5 door refrigerators KitchenAid has a wide range of quality refrigerator to choose from.
Best KitchenAid Refrigerator
Non-Dispense Bottom Mount Refrigerator (KRBL102ESS)

Features
ExtendFresh™ Temperature Management System
Full-width pantry
Metal wine rack
Energy star qualified
8) Boasch
The Boasch refrigerator is well designed and deliver the reliability that wins the customers today. Boasch is the underrated brand in the refrigerator category. Customer reviews about refrigerator are really far good than any other refrigerators in the market.
Best Boasch refrigerator
Bosch 288 L Frost Free Double Door Refrigerator
Features
Inverter Compressor
3-star energy rating
Frost free defrost system
44 dB noise level
9) Hitachi
Hitachi, a Japanese brand produce refrigerators with good qality and enhanced technology. The brand Hitachi is also popular for affordable and durable Air conditioners. There are lots of extra features that Hitachi offer in their latest refrigerator models.
Best Hitachi Refrigerator
Hitachi 565 L Frost Free Double Door Refrigerator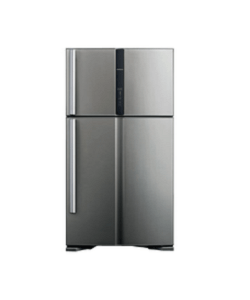 Features
All around cooling with dual fan technology
3 Star energy rating
Customizable interior space for food
Tempered glass shelves
Touchscreen LED control and water dispenser
10) Electrolux
Electrolux An European parent company has a good reputation in building the quality home appliance since 1919. The company also owned Frigidaire. Electrolux refrigerator can catch your eyes easily, doesn't matter how much they're expensive.
Best Electrolux Refrigerator
Electrolux EBP163 150 L Single Door Refrigerator

Features
3 Star energy rating
Direct Cool cooling technology
230 volts, 50 hertz Power Supply
Stabiliser Free Operation
Hope this list of top 10 refrigerator brand in the world can help you buy the best next time. Enjoy reading? Please let us know if we miss any brand or model on this list.
I am a passionate blogger having 5 years of experience in blogging and digital marketing. I have started List Absolute in 2018 to give my passion a live platform.